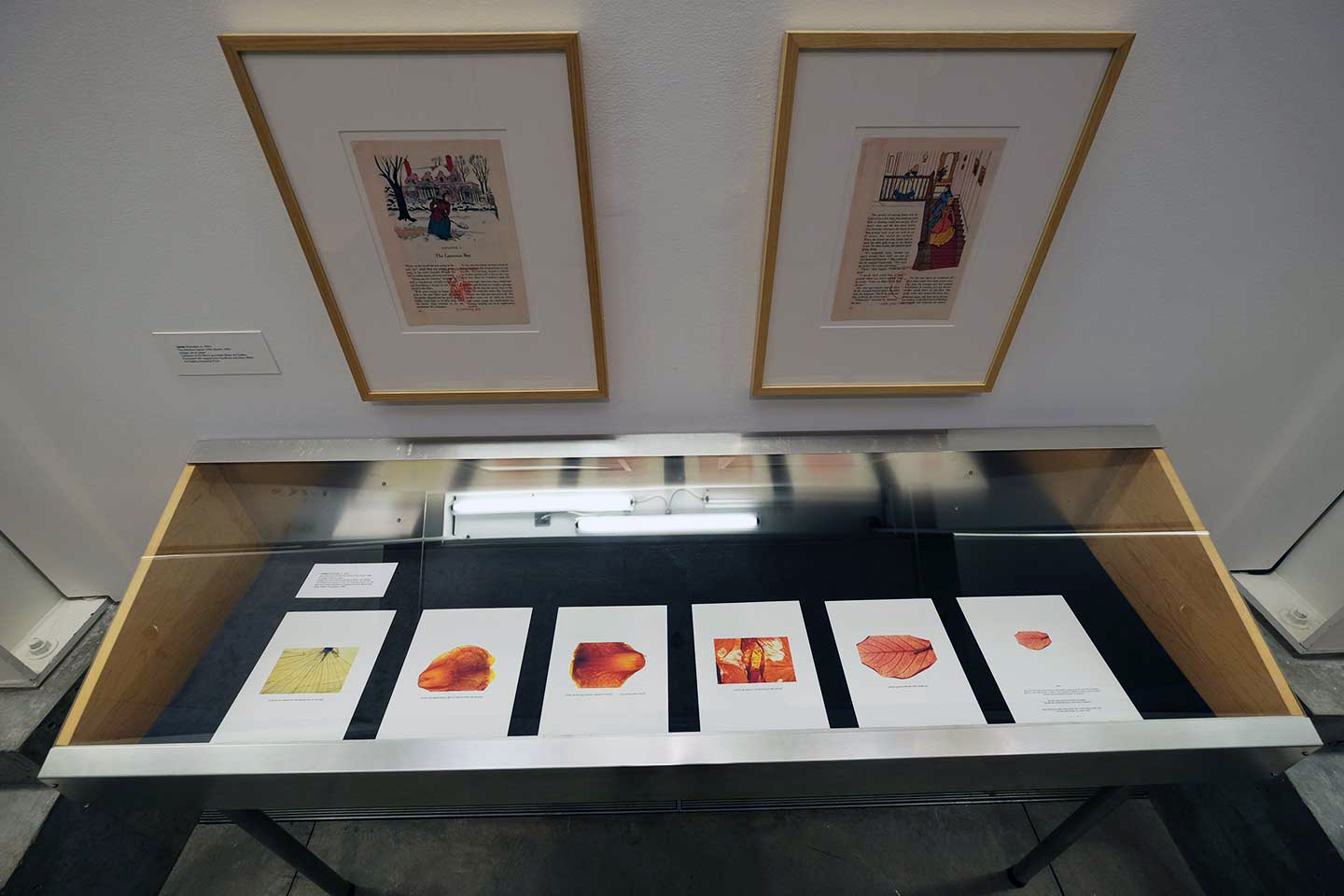 The Heartless & The Senseless Series
LAIWAN
1993
Dimensions: 8"x10.75"
Materials used: found pages from classic children's books, inkjet printing, English idioms, drawings
Installation photographs taken at the group exhibition "Beginning with the Seventies: GLUT, at the Morris and Helen Belkin Art Gallery, UBC from January 12 to April 8, 2018.
The Senseless Series and The Heartless Series are made of select illustrated pages found in the children's classics Little Women and Treasure Island. They are paired with select English idioms and where each series includes a drawn graphic icon — the heart for The Heartless Series, and hands for The Senseless Series. Each idiom and graphic icon are printed via inkjet printer (of early 1993 technology) onto each illustrated page. These works are called 'collages' because I view them as seemingly random juxtapositions of texts and images. They inquire into what is understood as classic narratives within the Western world, that shape children's imaginations (along with constructs of gender), and in this case, two seemingly innocent narratives created during a time of Western expansion and empire building. What it is to be 'heartless' or 'senseless' may or may not be found in these pages, but the work invites viewers to step out of established narratives, to reread these works, and as I aspire here, to be presented as koan, as riddle, as Buddhist slaps to consciousness.
The Heartless Series and The Senseless Series reside in the Belkin Art Gallery's permanent collection.
Thanks to Lorna Brown, Scott Watson, and all at the Morris and Helen Belkin Art Gallery, UBC.
A biographical side note, my experience as a child of Chinese lineage encountering these narratives as required reading at a strict school run by German nuns in Apartheid Rhodesia, a British Colony that had been illegally taken over by white Rhodesian settlers in Southern Africa, I tended to find classic Western stories to be abstract, slightly unimaginable, and if not a bit haunting as to how it shaped my understanding of what I should be aspiring toward, of what I could and should become, of what civility and society was and should be.